Retour au blog
How in only 3 weeks did a marketing trainee single-handedly redesign a site on the HubSpot CMS with the KILIMANDJARO template?
Mise à jour le 23 mai 2022
In January Ideagency decided to integrate Matthieu as a marketing trainee. In addition to these missions with a commercial background and no knowledge in website development he tried to create the website of our client ECF Pro Conduite. With our flexible, easy-to-use KILIMANDJARO template and its complete documentation, Matthieu succeeded in no time! Let's follow his adventure.
The company
ECF group is a French network specialized in the training, education and awareness of road users. With more than 45 years of experience and their 1,200 agencies throughout France as well as 83 professional training centres, they have established themselves as a major player in the training of future private and professional drivers as part of their preparation for the driving licence.
ECF Pro Conduite is one of the group's partner and has 5 professional training centers in the urban area of Paris.
The Challenges
Despite their success, after analysing their webiste and the complexity to manage their commercials and marketing tools, ECF Pro Conduite understood that changes needed to be made :
They had too many tools to manage ;
The ECF website wasn't representative of their customers ;
Their website design was old ;
Making changes or updates was a complex and laborious task ;
The User Interface and Experience was lacking ;
They wanted a unique platform to gather their tools and facilitate the management and create a new website , easily, quickly and with a controlled budget. In this context ECF Pro Conduite contacted Ideagency to migrate their site to the Hubspot CMS, completely redesign it and deploy an inbound strategy.
The Solutions
A hybrid solution to solve all issues
The first element of this solution was the use of our homemade template KILIMANDJARO. Choosing an existing and flexible template allowed ECF Pro Conduite to save time and respond to their controlled budget in the execution of the project.
In addition to this website template we offered them the custom development of many specific pages of the site, including the homepage. The goal was to create a website that answered needs, criteria and accurately represented our client.
That's when Matthieu came on the scene! As said before he was charged of creating the website despite not having any skills on website development. Indeed, having joined us as a content marketing intern, it was the first time he had the opportunity to work exclusively on the creation of a website, but the KILIMANDJARO template made this task not only possible, but easy.
The challenge was therefore totally new for him but we can all agree that he did very well and delivered a quality website to our client.
What did Matthieu think about KILIMANDJARO ?
"I arrived at Ideagency as part of my internship in my 4th year of business school BBA INSEEC (Lyon). I specialized in digital marketing with various courses that allowed me to develop knowledge in SEO, SEA, Inbound marketing... But I almost had NO lessons related to website development (HTML, CSS). I welcomed the fact that I was asked to create the new ECF Pro Conduite website as a real opportunity to develop new skills.
The documentation was very helpful when I started working on the website development as I did not have any experience in this area, and after only 3 weeks, I was able to deliver a 33-pages high quality website on time. The KILIMANDJARO template is very intuitive and easy to use thanks notably to the "Drag & Drop" tool. Even when I did some mistakes it was no big deal because they were so easy to spot and fix, it made my job a lot easier. Moreover, I really discovered the many features and customization opportunities offered by this template, with the many different flexible modules and page templates. Indeed, the pages' design was really easy to do as I could change the colors and the fonts as much as I wanted. Doing content integration was also one of my internship missions; this project allowed me to develop various development and content skills, all while creating a website in less than a month."
The results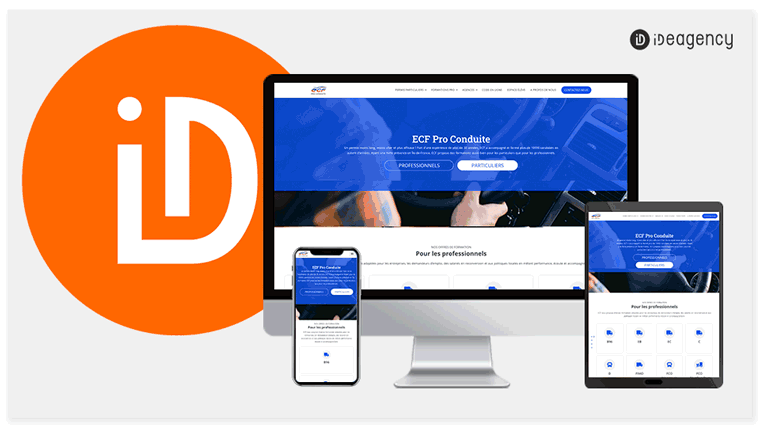 On Time, On Spec, On Budget
After less than 3 months of project (2 months of strategy and 3 weeks of website development), with weekly reviews, Ideagency was able to deliver ECF Pro Conduite brand new website which matched with the expectations of their management team and needs of their prospects and customers.
At last, we had a predefined budget and if compared to a 100% custom site, using an existing template allowed the developers to spend less time on the website, resulting in a high quality website that is cheaper and is delivered quickly.
An easy-to-use template for productivity
The advantage for them is to have a flexible and 100% manageable website saving their time to do more pressing tasks (marketing, sales, strategy...).
Moreover, the migration to HubSpot CMS allowed them to use only one marketing environnement and this makes their job way easier than before.
The perfect base for Growth-Driven Design (GDD)
ECF Pro Conduite is only getting started! Indeed this "launchpad" website is built for gradual evolution and continuous improvement. This is the focus for the next 12 months.
Using GDD methodology customers see on average:

14,1% more visitors;

16,9% more qualified leads;

11,2% more revenue.
- State of GDD - HubSpot (2017)
Awesome performance
In three months only we have seen incredible results:
x10

visitors from 400 to 4000

567%

generated leads from 30 to 200 leads
Conclusion
After the website went live and when they saw how well it performed, it confirmed ECF Pro Conduite with the importance and complementarity of inbound marketing and the joy of having a manageable website.
Top of the list is therefore the creation of their blog in order to deploy inbound marketing: create relevant contents for the visitors, generate more leads and customers. We will also use the wish-list that we created during the strategic phase which includes prioritized actions and website evolutions that will progressively improve ROI.
As stated, the fact that KILIMANDJARO is 100% manageable allows the marketing and sales teams to focus on their more important tasks and develop their position in their industry.
Ne vous arrêtez pas en si bon chemin, découvrez d'autres articles qui pourraient vous intéresser :