Retour au blog
How a Growth Marketing Strategy on HubSpot helped ECF PRO CONDUITE get unexpectedly high results in a year?
Mise à jour le 25 février 2021
THE CLIENT: ECF PRO CONDUITE
ECF PRO CONDUITE is a specialized drive training center that belongs to ECF Group. Operating in 5 different locations on the outskirts of Paris, ECF PRO CONDUITE is part of a 45-year-old legacy with 1,200 agencies across France.
Today, ECF has established itself as one of the biggest brands for commercial and specialized vehicle training with 83 training centers.
THE MARKETING CHALLENGE
ECF PRO CONDUITE's site already had 400 visitors and 30 leads per month. However, Monssif (the CEO) was ready to take his business forward.
With an aging site and a fantastic opportunity to boost their inbound strategy, we set a list of goals for the next 12 months: from UX to Marketing and from Sales Enablement to SEO/SEA.
Marketing goals:
Revamp ECF PRO CONDUITE brand
Ameliorate website navigation
Improve customer's perception of ECF PRO CONDUITE's services
Increase traffic, leads and customers
Optimize the structure of the website so marketing teams can test and iterate.
THE SOLUTION: CREATE A NEW STRATEGY BASED ON INBOUND AND OUTBOUND MARKETING
ECF PRO CONDUITE already had a HubSpot Sales Pro license. Consequently, we chose to use HubSpot's Marketing Hub and CMS Pro to fortify ECF PRO CONDUITE's marketing strategy. This way we can have a 360° data visibility with the benefits of a seamless experience.
Step 1: Buyer Persona and Buyer Journey
We began with research and interviewed different users to create reliable buyer personas with a realistic buyer journey. During this sprint we disqualified assumptions and we discovered valuable information about our persona buying habits.
Step 2: Branding and Website Redesign in 2 months
Even when ECF PRO CONDUITE runs independently, the company is part of a national brand. Therefore, we benched other ECF sites to consolidate a cohesive UI for the new website. To launch a new functional site in less than three months, we used our template pack Kilimandjaro.
This HubSpot native web template allowed us to adapt, build, manage external integrations, and launch 42 website pages on time and budget.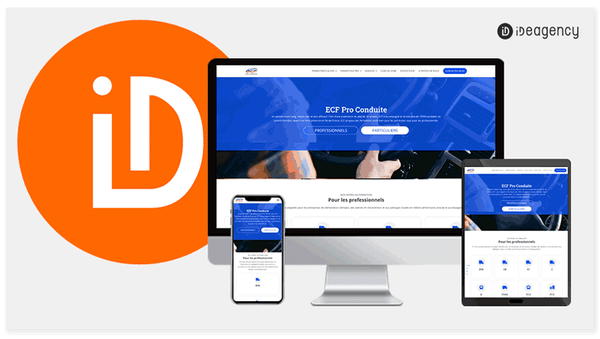 Step 3: Inbound Marketing (Content Strategy and SEO) and SEA
During the user interviews, we found that company-financed training was the reason why individuals chose ECF over other companies. Therefore, numerous articles were written to respond to this interest, and a cluster was created.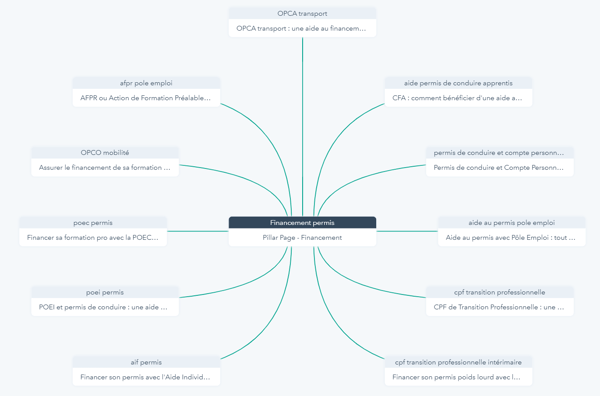 To bring our content to users with low-digital skills, we made this content available as a free downloadable resource on ECF PRO CONDUITE's website.
At the same time, we decided to implement a Paid Referenced Campaign (or SEA) in April 2020. The objective was to use highly targeted pages (Landing and Service pages) to convert users looking for commercial and specialized vehicle training (trucks, buses, trailers...).
Step 4: Growth-Driven Design (GDD) to improve performance
In 2020 we launched new pages and forms to optimize conversion. We ran a couple of A/B tests to gather more data and make an informed hypothesis that will eventually be refuted or confirmed to improve conversion.
THE RESULTS: INCREDIBLE ACHIEVEMENTS WITHIN A YEAR
Improve Traffic
x59

increase in sessions

x42

Increase in organic traffic

x3

Increase in session length

33%

Decrease in bounce rate
Improve Leads and Customers
+2500

New Contacts by Ads and higher ROI

x22

Increase in Leads

10%

Session to Contact rate on organic traffic

x14

Increase in Customers
Improve Global Performance and ROI

HubSpot Marketing Dashboard

HubSpot Marketing Google Ads Report
Note: Due to very high demand, 50% of qualified leads couldn't be managed by a sales representative.
Thanks to the strategy deployed with HubSpot Platform, we exceeded ECF Pro Conduite's marketing goals.
THE IMPACT: POSITIONNING AS A GROWTH AGENCY
During our first year of collaboration, Ideagency boosted ECF PRO CONDUITE's online presence, leads, SQLs and customers. The performance of our marketing campaign was unexpectedly high therefore we decided to pause our SEA strategy. Indeed, 50% of generated leads couldn't be managed by sales representative.
These high-performing results encouraged Monssif to position Ideagency as his Growth Strategic Partner. For 2021 we are working together to set up HubSpot tools to match their internal process. Here is a part of the ECF PRO CONDUITE 2021 plan:
MARKETING
Improve ECF PRO CONDUITE's lead nurturing strategy
Increase organic traffic and leads
Improve the user journey on the website
Take advantage of HubSpot's powerful Serverless function to get more qualified leads.
Cleanup the database
SALES
Create a new sales process for B2C and B2B markets
Improve closing rates and sales velocity
Revamp and structure Sales' Process, and coach future Sales Team members (hiring and training HubSpot sales representatives)
Continue to increase revenue from digital sources.
Review sales dashboards
SERVICE
Implement a Knowledge Base for ECF PRO CONDUITE's customers
Implement tickets to manage customer issues
Measure customer experience with NPS
INTEGRATION & HUSBPOT
Map, design, and automate integrations between ERP Nevea and HubSpot
Upsell to Growth Suite Enterprise and CMS Enterprise to access crucial functionalities (serverless, revenue attribution, webhooks...)
Conclusion
Efficiency and responsiveness
I would like to thank the Ideagency team for their efficiency and responsiveness. Their work has been a growth driver for my company and their sound advices have been extremely valuable in the digitalization of my business. I highly recommend!"

Monssif Lakssimi, ECF Proconduite
Ne vous arrêtez pas en si bon chemin, découvrez d'autres articles qui pourraient vous intéresser :