Retour au blog
Website redesign helped Guest Suite to boost their SEO traffic by 150% within 2 months!
Mise à jour le 17 octobre 2020
Presentation of the company and its problematics
Guest Suite is a French company specialized in e-reputation; to be more precise, it is a SaaS solution which deals with customer advice management system. Their main partners are Google, TripAdvisor, Zoover, Pages Jaunes, and they work with more than 2,000 customers.
The challenge
At first, Guest Suite lead acquisition model was based on "cold calling"; this means that the sales team was in charge of finding new prospects and leads. In 2013, the year of the company's creation, this sales team was composed of only one man... But the bigger the firm became, the more sales employees were hired until they reached 20 sales staff. This method was very expensive for the company and not really scalable.
Moreover, as Guest Suite was growing, they entered new markets and new countries. That's the reason why they needed to find a less costly and more scalable way to generate leads. Inbound marketing appeared to be the best solution combined with Growth-Driven Design methodology.
The solutions
The collaboration between Guest Suite and Ideagency started at the end of 2018. The best way for them to align the different actions was to migrate their website to HubSpot.
Sprint 1 : Redesign of the homepage
To answer the best way possible to these different issues, we first proposed them to redesign their whole homepage as it was looking a bit old-fashioned. Indeed, it is very important to have a nice design for a website, if this is not the case, it could give a bad image of the company.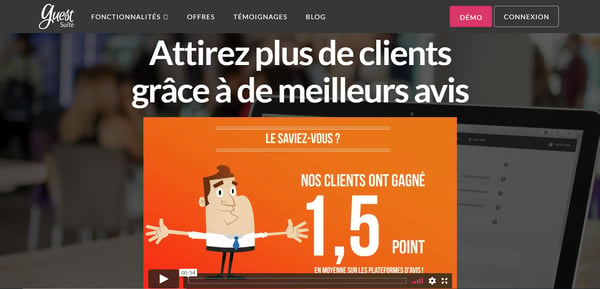 Guest Suite's website before redesign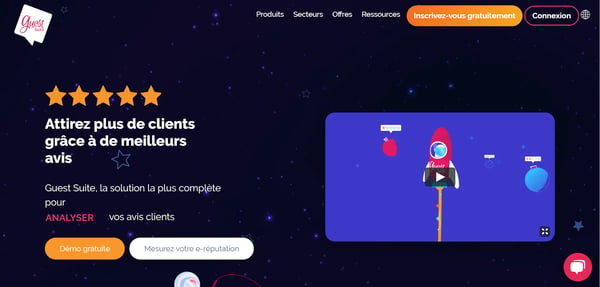 Guest Suite's website after redesign
Sprint 2 : Redesign of the blog list
Second, we suggested redesigning the blog list. Having a blog is an excellent way to promote a brand if the SEO impact is high and more importantly, this is the gateway to an inbound strategy. The main objective of this strategy was to capture potential customers upstream of their needs. You have to know that 80% of the target, on the "management of customers opinions" market, is not very mature. So, the earlier you get in touch with them, the better you can nurture them.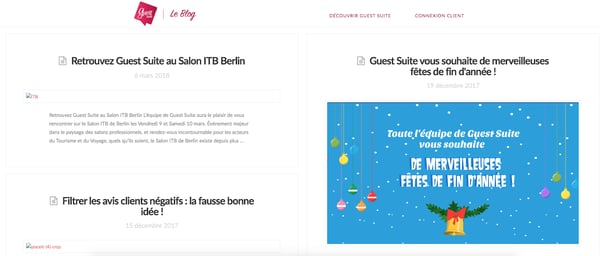 Guest Suite's bloglist before redesign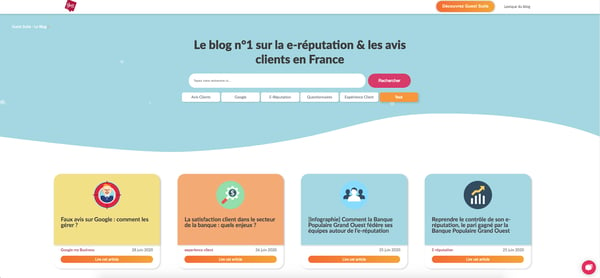 Guest Suite's bloglist after redesign
Sprint 3 : Migration to a directory
As you may know, the blog was before on a sub-domain. Despite the different actions that were done by Guest Suite to increase the SEO performance, the blog was struggling to get off the ground and some queries sometimes even absent from the index.
A test needed to be done. It consisted of using the content of a blog article absent from the index and publishing it on the main domain. And tadaaaa! 3 days later it was indexed on the third page. This showed that a sub-domain does not take advantage from the main domain.
So we decided to migrate the blog from a sub-domain to a diretory so it could benefit from this main domain.
Sprint 4 : Creation of the "e-reputation" tool
Last but not least, we created their "e-reputation" tool. The main objective for the users is to be helped in the analysis of their reputation online and be given pieces of advice in order to make their e-reputation better, while the objective for Guest Suite is to have a tool created in only one month, that can help in the lead generation quickly.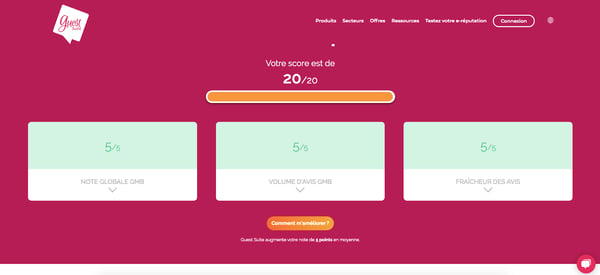 Guest Suite's e-reputation tool
The results & impact on the business
A focus on inbound marketing, the key to success!
The figures speak for themselves. Since the launch of its inbound marketing strategy on the CMS HubSpot, Guest Suite drastically reduced its sales workforce's costs for the benefit of a more flexible leads generation.
In less than one year, we've helped Guest Suite to win more than 150% of additional visitors over the previous year! The brand new homepage alone represents 60% of these striking figures.
To crown it all, we respected their tight budget, their deadlines and we managed to meet their requirements, especially regarding their SEO strategy.
150% increased in terms of SEO traffic!
Indeed, as mentionned above, the advantage of migrating a blog toward a directory is that it can benefit from the main domain authority. Therefore, their SEO traffic increased by 150% within only 2 months! On top of that, they jumped 50 places among the Top 1-3 of searched keywords.

Evolution of Guest Suite's SEO traffic
Blog posts views are still growing exponentially (+2,349%)
This successful outcome also led to a strong increase of more than 240,000 additional blog posts views as well as a 135% increased of warm leads during the same period!

Total number of views of blog posts over time
5 new deals generated thanks to the e-reputation tool!
What is really interesting to observe through the e-reputation tool's performance is that the effort & results ratio is really more valuable/beneficial than an classic ebook. As a matter of fact, Guest Suite won 5 new clients and plan to grow their ROI by 390% within 5 years only thanks to this gadget!
Conclusion
The idea to push forward an inbound marketing strategy has been extremely rewarding. On the occasion of the famous #InboundMarketingFrance event, Guest Suite won the second prize for the best inbound strategy in 2020! Our collaboration with Guest Suite is starting to bear fruit and seems to be really promising!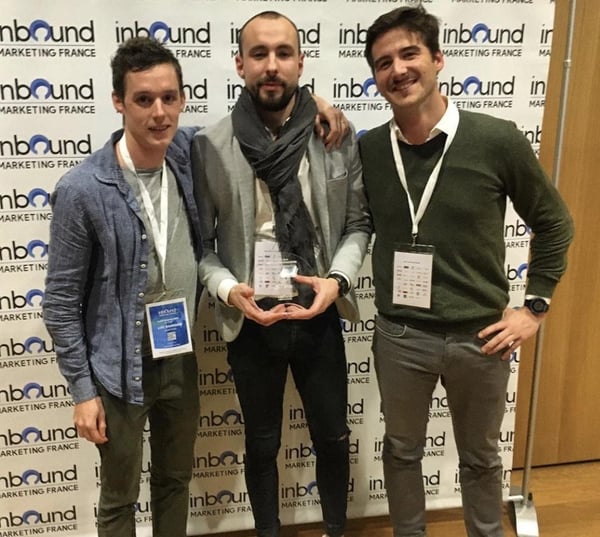 By the end of 2020, we aspire to generate 50% of our new business from our marketing leads.

- Clément Poupeau, Head of Marketing, Guest Suite.
We are really proud to support this flourishing agency in its inbound marketing trajectory. Thus, we will do everything possible to help them reach their main goal: increase their warm leads by 400% before the end of the year! A bright future is waiting for their marketing & sales teams...
Ne vous arrêtez pas en si bon chemin, découvrez d'autres articles qui pourraient vous intéresser :